Welcome and Thank You for visiting Hakurosya Publishing.
We are always on the lookout for promising new unpublished writers and established authors. We are primarily in the business of translating English works of fiction and non-fiction into Japanese, then publishing and distributing them to the vast Japanese market. We also represent, publish and distribute local Japanese authors.
---
Hakurosya has received 73 manuscripts, which have traveled from far and wide to reach our offices, since September 11, 2005 when we first ran an advertisement in the New York Times soliciting submissions from aspiring Future Best-Sellers.
Hakurosya F ☆ B Series is an unprecedented project which was launched to give the people of Japan access to never-before-published works by incredibly talented debut writers whose literary gems have been unearthed through the initiative of the Hakurosya F ☆ B Series.
OFFICE OF THE PRESIDENT
Mitsunobu Yamamoto
President
Hakurosya Publishing

As the President of Hakurosya Publishing, Mitsunobu serves as the Chief
Executive Officer of a vibrant and energetic publishing company, that
is proud of its mission to find and help writers with promising
futures, the superb quality of its staff and editors, who both
recognize talent and excel at guiding it into the hands of readers, and
its primary focus on bringing quality literature to Japan.

Prior to becoming President of Hakurosya, he served as the Professor of
Translating Methods at Hokusei Gakuen University and Sapporo
University. Before taking on these positions in 1999, he established
Intercollege Sapporo, a translating school in 1996, and soon after
began writing columns for the Hokkaido Newspaper.

Born in Tokyo in 1941, Mr. Yamamoto's career in the book business began
in 1959, when he attended Wauwatosa High School in Wisconsin on an
American Field Service Scholarship. After returning from America, in
1967 he graduated from the International Christian University in Tokyo
and began his meteoric rise in the industry with his highly acclaimed
translation of Robert Ludlum's classic thriller, "The Bourne Identity."

He lives with his wife, Motoko, and two children in Sapporo, the capital of the northernmost island of Japan. His hobbies include riding his motorbike around the island, golf, Kendo (Japanese fencing) and writing.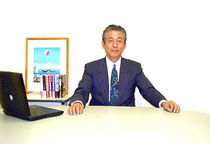 Mitsunobu Yamamoto